Help For Refugees, Inc. is an Interconfessional Christian Missionary Organization. Statement of Faith: The Apostles' Creed.
Help For Refugees, Inc., is a tax-exempt, 501(c)(3)* non-profit corporation, trying to be of help to refugees from present and former communist countries. It also helps in dire situations left, as a sequel of communism, for instance formerly persecuted Christians in Eastern Europe, Christians who passed through 6-10 years of communist prison because of their Christian witness or orphanages in Eastern Europe, Asia, Latin America.
*The organization is listed in the Publication 78, Cumulative List of Organizations described in Section 170(c) of the Internal Revenue Code of 1986, which is a list of organizations eligible to receive tax-deductible charitable contributions. May be checked specifically at the following link:
IRS Public Charity Listing of Help For Refugees, Inc.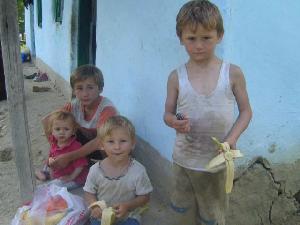 Pictures of orphans taken into the The Agape Orphanage, Pascani, Romania: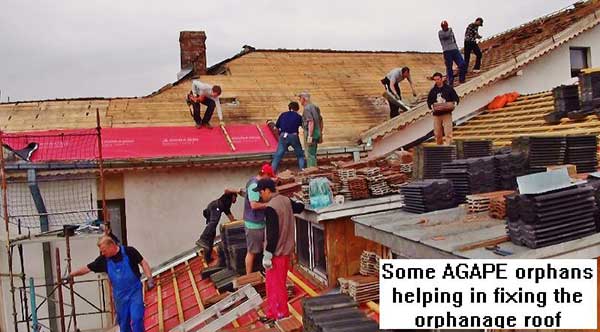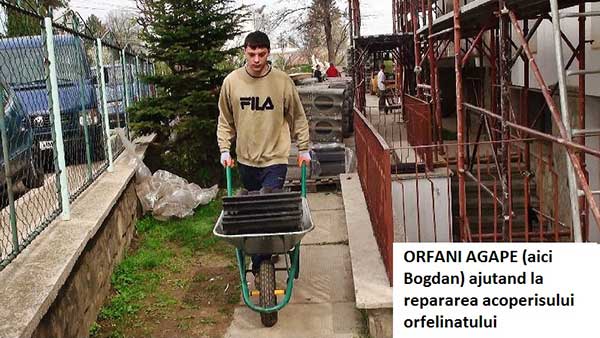 Your tax-deductible donations, if interested in participating in this help-work, may be mailed to:
Samples of Support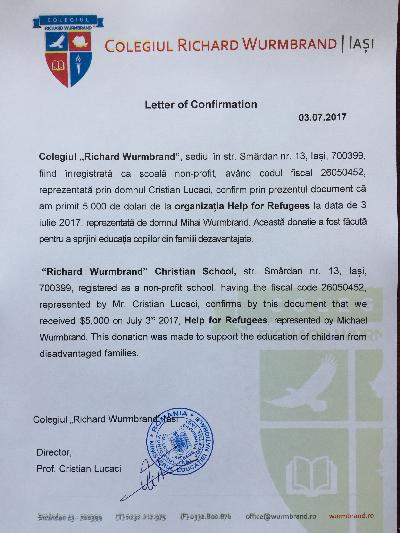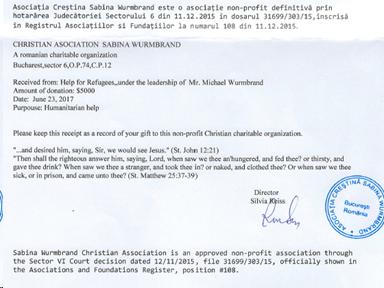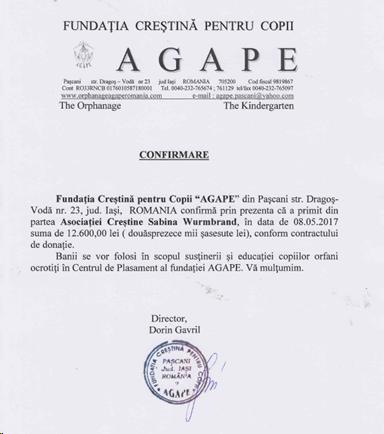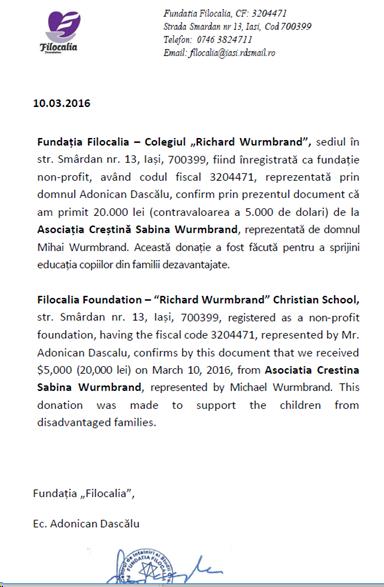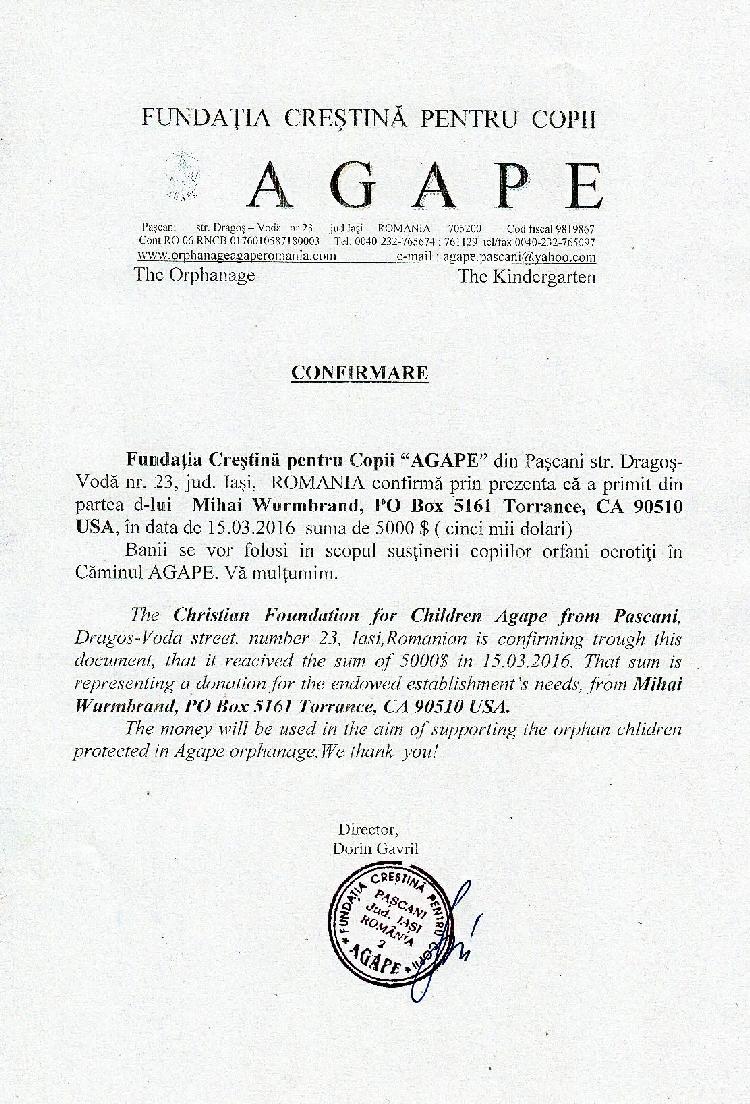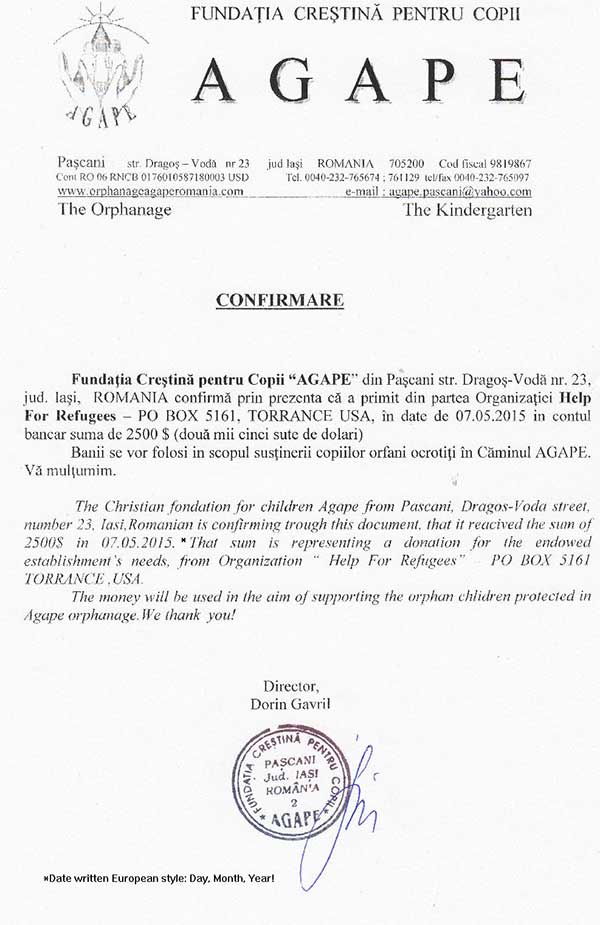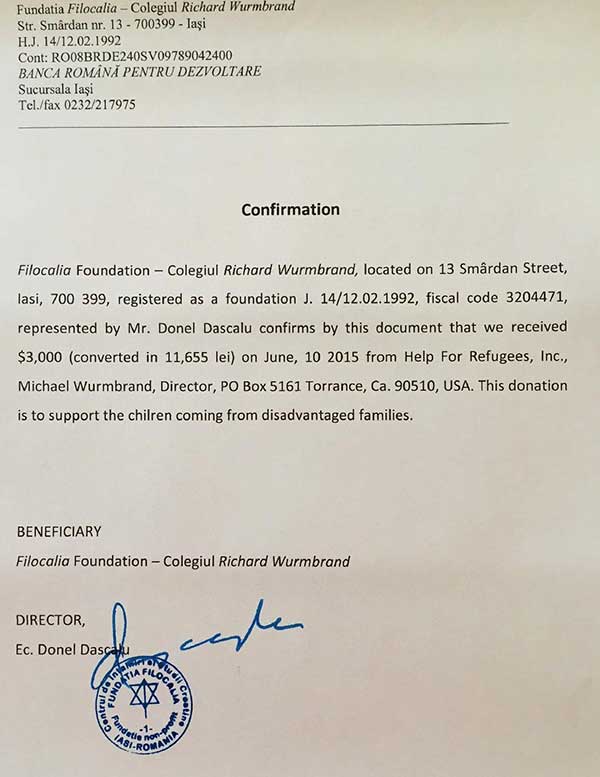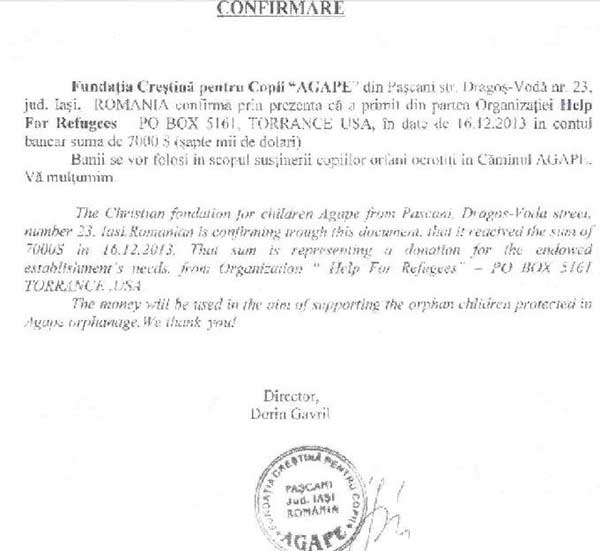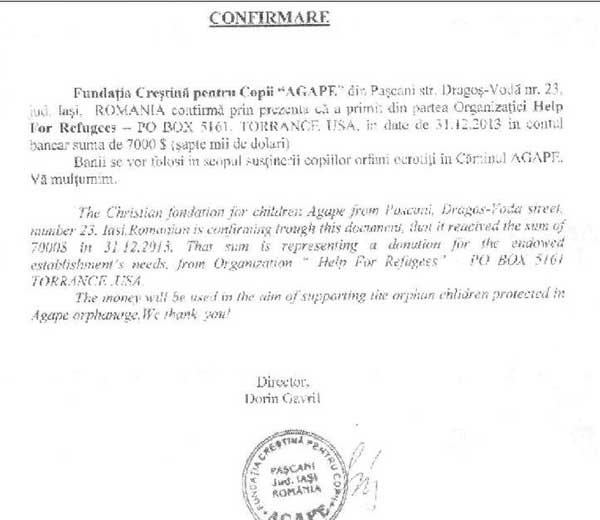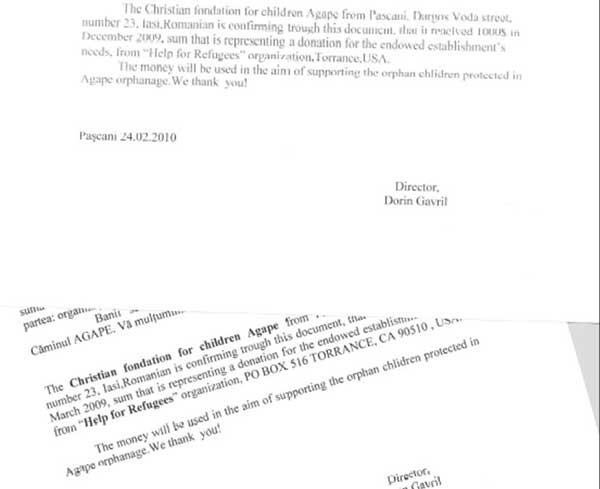 Return of Organization Exempt From Income Tax:
Made available upon written request (by USPS.)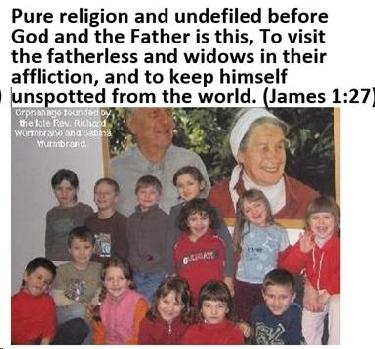 Help For Refugees continues the missionary work started by late Reverend Richard Wurmbrand and his wife Sabina. We help:
- Orphans in countries formerly under communism in Eastern Europe;
- the Richard Wurmbrand College, Iasi, Romania;
- the Agape Orphanage in Pascani, Romania;
- Christians in countries of Eastern Europe, who passed through many years of communist prisons, many of them now in their 80s and 90s.
Children in the Agape Orphanage, founded in 1993 by late Reverend Richard Wurmbrand and his wife Sabina
You may make your tax-deductible check donations to:
Help For Refugees, Inc., Michael Wurmbrand, Director.
PO Box 5161 Torrance, Ca. 90510, USA.
or click button below to donate through a creditcard or Paypal account:
Email:hfr@helpforrefugees.com; On the Internet: Help For Refugees, Inc.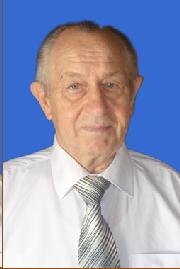 Christians helped with your gifts

5 years in Soviet prisons, a 40 days hunger strike!
My fight for the Bible by the Russian Baptist Christian Mikhail Alexandrovich Pshenitsyn
He writes: "I was imprisoned in two periods: 1974-1976 and then again was arrested and this time was subjected from 1985 to 1988 to a really harsh communist prison camp. I had succeeded somehow to have a Bible smuggled into my cell. I hid it inside the double bottom of a nightstand. An Afghan, a common-law criminal imprisoned for murder, shared my cell-block. He had been placed there by the communist authorities to spy on me. Having no suspicions, I witnessed to him and one day he asked to allow him to read the Bible. As soon as I gave it to him, I had doubts I will ever see this Bible again. Indeed, two days later, he claimed the Bible had been taken away from him by the authorities. I asked the Bible be returned to me but was refused. I told everyone I will fast until the Bible is brought back to me. In the beginning I did not touch any food in the prison mess. Since due to hunger I could not fulfil the work-norm, I was isolated in a stockade where I could only stretch on a bed of bare boards. The prison guards delivered food and water and were spying on me to find out if I eat. I only drank water. It so happened in this time period the government issued a general amnesty. I was called by the prison commandant and told how if I renounce my obstinacy and start taking food, there is a chance I could be liberated and be back with my family. I answered, "I will start eating only after you return my Bible since it says in the Bible that food is sanctified through God's Word and prayer. " The officer answered: "You will stay imprisoned and (when you die) we will tie just a label onto one of your corpse-toes. No one will ever know where is your grave." I answered, "How wrong. God knows everything." I had a curious experience while being so hungry. My sense of smell became very sharp. I could tell just having a whiff, what kind of food was being prepared in the far away prison-kitchen. Though so weakened, I was able to smuggle out of prison a letter to my family describing my condition. My family alerted many Christians, even believers outside the country. The prison authorities received hundreds of protests coming by mail, by wire even. The prison authorities were so startled by such a wide-world reaction to my predicament that on the 40th day of my fasting, the Bible was given back to me. I went out of the stockade, breathing the fresh air, miraculously having new strength. One of the common-law prisoners asked me, "so, where is the Bible?" I proudly pointed to my pocket. As soon as I took it out of my pocket, he snatched it from me. He was loudly shouting to his fellow prisoners, "I was right! I was right! I told you Mikhail will never renounce his hunger strike unless he recovers his Bible." I was wondering, how come he is so happy about me getting my Bible back? So, I asked him, "what would have happened had I come out without getting the Bible back?" He answered, "we would have killed you!" Thus, I found out these common-law criminals had placed bets on my faithful steadfastness. Thus, God helped me remain faithful and alive!"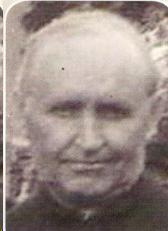 Late Reverend Gheorghe Coceanga Spent 5 years in Romanian communist prisons for his Christian faith.
From Reverend Richard Wurmbrand's Testimony in front of a US Senate Committee, May 1966
There was a brigade in Romania which was only for priests, bishops, pastors, rabbis, and laymen - whoever was in prison for his faith. One day a political officer came to inspect that brigade. Everybody stood at attention, and at random he called out a young minister (whose name was Coceanga) and asked him, "What have you been in your civilian life?" And he replied, "Sir, what I have been in my civilian life, I will be forever. I am a priest of God." "Aha, a priest! And do you still love Christ?" The priest was silent for a few seconds - seconds as long as eternity, because he knew that his eternal destiny would be decided in those seconds. The Lord said, "Whoever confesses Me before men, him I will also confess before My Father who is in heaven. But whoever denies Me before men, him I will also deny before My Father who is in heaven" (Matthew 10:32, 33). And then after a little meditation, his face began to shine - I have seen so many shining faces - and with a very humble but very decided voice he said, "Captain, when I became a priest, I knew that during Church history thousands had been killed for their faith. And as often as I ascended to the altar dressed in those beautiful, ornate robes, surrounded by the respect and love of the congregation, I promised to God that if ever I had to suffer, if ever I wore the uniform of the prisoner, I would still love Christ." "Captain," he went on to say, "I so pity you. We have the truth, and you have whips. We have love, and you have iron bars on prison cells. Violence and hatred is a very poor argument against truth and love. If you were to hang all the professors of mathematics, if all the mathematicians were hanged, how much would four plus four be then? It would still be eight. And eight plus eight would still be sixteen. "You can't change the truth by hanging those who speak the truth. If all the Christians were hanged, it would still remain so that there is a God, and He is love. And there is a Savior; His name is Jesus Christ, and by confessing Him a man can be saved. And there exists a Holy Spirit, and a host of angels around the earth. And there exists a beautiful paradise - you can't change the truth." I wish there was a way to convey the tone with which he said those words. We, the others, were ashamed because we believed in Christ, we hoped in Christ, but this man loved Christ as Juliet loved Romeo and as the bride loves the bridegroom.
Michael Wurmbrand Interview (in Romanian with English subtitles) at The Memorial MUSEUM to the Victims of Communism, Sighet, Romania (2002)
Click the arrow and wait 10-20" for the video to start.
The video controls reappear when you pass the mouse over the image!